Check out "Today's Top Three Mansions"
www.todaysbestmansionsforsale.com
#1 17111 El Vuelo,

Rancho Santa Fe, CA 92067 on 22 acres with 6 bedrooms, 8 baths and 22,500 sq.ft is listed for sale at $39,000,000
Would you spend $39,0
00,000 for this mansion?
Ideally perched atop 33 acres, the most spectacular contemporary house ever constructed in the prestigious Rancho Santa Fe Covenant is introduced to the market. 7 years in the making this organic modern masterpiece delights the senses with all rooms open to walls of glass framing the stunning mountain and valley vista views. At 22,500 sq ft the estate offers ample space including 6+ over-sized bedrooms containing a dedicated master wing with panoramic views and his and hers everything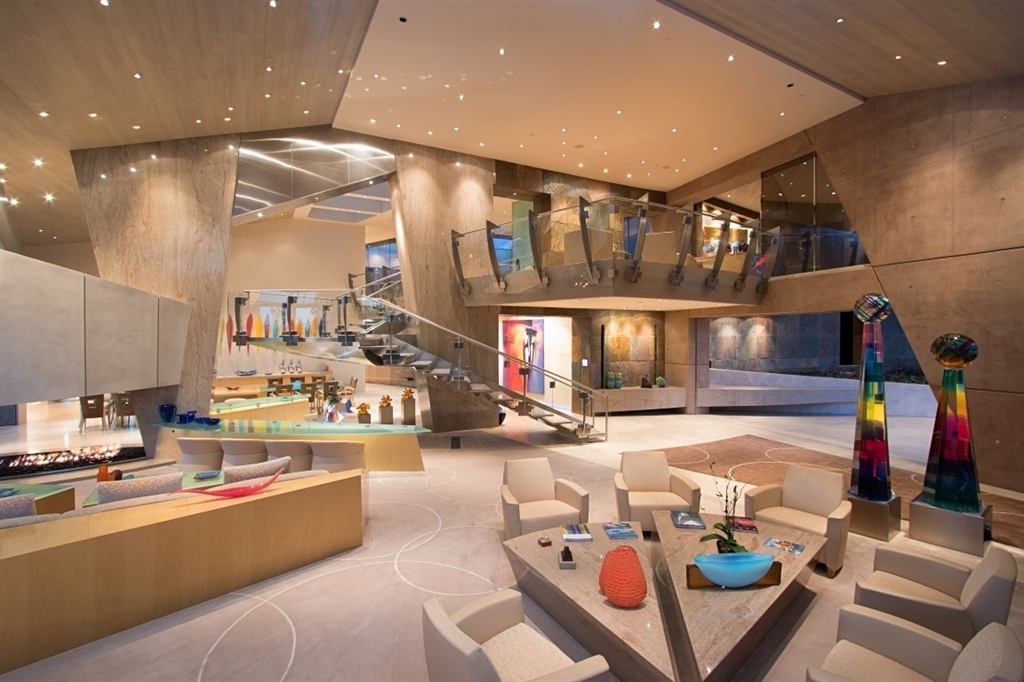 #2 670 Island Palm Drive, Palm Beach, Florida, 33480 with 5 bedrooms, 7 baths and 5,273 sq.ft. is listed for sale at $20,995,000
.

Would you spend $20,995,000 for this mansion?



This direct waterfront villa known as Il Cortile reflects the classic and refined Mediterranean style of Palm Beach. From the moment you enter, the villa romances your senses. Located on the east side of Everglades Island, the award-winning estate was designed by architects Fairfax and Sammons and is on the market for the first time. With approximately 7,500 +/- sq. ft. of total indoor/outdoor living, the villa surrounds an exquisite 900 +/-sq. ft. central courtyard that is framed by loggias and graced with a charming fountain and water views which provide the perfect backdrop for gracious entertaining. Beautiful archways and balconies overlook the courtyard offering sparkling water views. Two grand trees on each side of a brick drive welcome guests. Every thoughtful element used contributes to an Old World feel, from the stucco faade and the distinctive glazed green barrel-tiled roof to the dramatic arched doors, casement windows with classic shutters, coffered and vaulted ceilings, limed cypress rafters, and colorful antique European tile. The kitchen features a center island, high end appliances, a hand-carved stone hood and views of Palm Beach and Tarpon Island; an elegant great room includes space for both comfortable living and formal dining; a warm wood paneled study or library is a peaceful retreat; the elegant master suite includes a sitting-room with serene views of the grounds; four timeless guest bedrooms have ceiling fans, handsome wood floors and ensuite baths with French and Belgian encaustic tile; the powder room is also detailed with eye-catching Portuguese tile.The villa's ambiance is enhanced by tasteful landscaping, large shade trees, thriving bougainvillea and other lush tropical foliage. The pool is located on the expansive lawn by the lake which provides gentle breezes and lovely water views. A private dock with boat lift facilitates boating and water activities on Lake Worth.


#3

176 Emerald Bay,

Laguna Beach

,

CA

92651 with 5 bedrooms, 8 baths and 7,461 sq.ft. is listed for sale at $19,800,000
Would you spend $19,800
,000 for this mansion?
Emerald Bay Point front row. Currently the only Emerald Bay oceanfront available. Unobstructed ocean views looking south from all levels. Beautifully constructed and designed, this home is a gem. The main level features formal living room with an elevated formal dining area and library/office, as well as a wonderful morning room and fabulous kitchen. All enjoy the exquisite panorama. The upstairs master suite is spectacular, alone with its own private viewing deck. Downstairs is for fun...with gym, entertainment room, bar, and terrace featuring a wonderful ocean view spa. Feels like a Puerto Vallarta resort. Five bedrooms in all, four fire places, elevator, three garages, golf cart port and much more. Don't miss this one.




Mortgage News Daily
MND's Daily Rate Survey

52 Week

Product

Today

Yesterday

Change

Low

High

30 Yr FRM

4.45%

4.45%

--

4.43%

5.05%

15 Yr FRM

4.04%

4.04%

--

3.86%

4.53%

FHA 30 Year Fixed

4.12%

4.12%

--

4.12%

4.62%

Jumbo 30 Year Fixed

4.25%

4.25%

--

4.25%

4.81%

5/1 Yr ARM

4.35%

4.34%

+0.01

3.61%

4.75%
Mortgage Rates Start Week Near Long-Term Lows
Mortgage rates were roughly unchanged to begin the week. That means they are staying in line with the lowest levels in more than a year. Only 2 or 3 days have been any better, depending on the lender, and the differences are minimal.
It's refreshing to see rates near long-term lows after somewhat of a scare 2 weeks ago. Heading into March 1st, rates rose at their quickest pace in more than a month. In so doing, they were also potentially breaking out of a sideways range that had dominated most of 2019. When rates break such ranges, it's not uncommon for them to keep moving in the direction of the break. In other words, we may have been looking at the beginning of a bigger move toward higher rates.
Thankfully, last week saw a complete reversal of the negative momentum. This restored the previous range and it leaves us to wait for the next breakout. Such a breakout could be caused by a combination of various economic reports or any major surprises in next week's Federal Reserve policy announcement. In general, when we're near the lowest part of the range, there has been more risk that rates will move higher in the following days. That said, if the economic data is weak, rates could hold their ground or even improve.
100 Top Real Estate Markets Medium Values for the 12 months ending December 31, 2018/2017
Zip code

Location

County

State

Median sale price
2018/2017

1

94027

Atherton

San Mateo County

CA

$6,700,000/$4,950,000

2

11962

Sagaponack

Suffolk County

NY

$5,500,000/$2,819,000

3

02199

Boston

Suffolk County

MA

$4,772,500/$2,800,000

4

10013

New York

New York

NY

$3,810,000/$4,100,000

5

90402

Santa Monica

Los Angeles County

CA

$3,762,000/$3,512,000

6

94301

Palo Alto

Santa Clara County

CA

$3,755,000/$3,300,000

7

94022

Los Altos

Santa Clara County

CA

$3,500,000/$3,200,000

8

94028

Portola Valley

San Mateo County

CA

$3,300,000/$2.895,000

9

94024

Los Altos

Santa Clara County

CA

$3,254,500/$2,875,000

10

33109

Miami Beach

Miami-Dade County

FL

$3,250,000/$4,052,000

11

90210

Beverly Hills

Los Angeles County

CA

$3,212,500/$4,052,000

12

92661

Newport Beach

Orange County

CA

$3,150,000/$2,819,000

13

10007

New York

New York

NY

$3,075,000/$3,988,883

14

92662

Newport Beach

Orange County

CA

$3,057,500/$2,575,000

15

98039

Medina

King County

WA

$3,050,000/$2,590.000

16

90272

Pacific Palisades

Los Angeles County

CA

$2,900,000/$2,730,000

17

11976

Water Mill

Suffolk County

NY

$2,862,500/$3,162,000

18

94010

Burlingame

San Mateo County

CA

$2,800,000/$2,400,000

19

10282

New York

New York

NY

$2,792,500/$2,775,000

20

94306

Palo Alto

Santa Clara County

CA

$2,700,000/$2,445,000

21

95070

Saratoga

Santa Clara County

CA

$2,690,000/$2,320,000

22

95030

Los Gatos

Santa Clara County

CA

$2,580,000/$2,211,000

23

92657

Newport Coast

Orange County

CA

$2,550,000/$2,950,000

94957

Ross

Marin County

CA

$2,550,000/$2,987,000

24

92625

Corona Del Mar

Orange County

CA

$2,500,000/$2,100,000

25

94920

Belvedere Tiburon

Marin County

CA

$2,400,000/$2,550,000

26

10012

New York

New York

NY

$2,377,500/$1,807,000

27

90266

Manhattan Beach

Los Angeles County

CA

$2,369,000/$2,250,000

28

94025

Menlo Park

San Mateo County

CA

$2,363,500/$2,062,500

29

92067

Rancho Santa Fe

San Diego County

CA

$2,275,000/$2,062,500

30

90049

Los Angeles

Los Angeles County

CA

$2,250,000/$2,210,000

31

93921

Carmel By The Sea

Monterey County

CA

$2,245,000/$1,600,000

32

93108

Santa Barbara

Santa Barbara County

CA

$2,225,000/$2,757,500

33

07620

Alpine

Bergen County

NJ

$2,200,000/

$4,763,577

34

90077

Los Angeles

Los Angeles County

CA

$2,175,000/$2,068,437

35

94062

Redwood City

San Mateo County

CA

$2,150,000/$1,699,000

11930

Amagansett

Suffolk County

NY

$2,150,000/$1,781,000

36

91108

San Marino

Los Angeles County

CA

$2,109,000/$2,150,000

37

89413

Glenbrook

Douglas County

NV

$2,107,500/$1,967,000

38

02543

Woods Hole

Barnstable County

MA

$2,105,000/

$2,519,636

39

10018

New York

New York

NY

$2,100,000/$1,146,000

94970

Stinson Beach

Marin County

CA

$2,100,000/$1,650,000

90265

Malibu

Los Angeles County

CA

$2,100,000/$2,252,500

40

94123

San Francisco

San Francisco County

CA

$2,075,000/$1,800,000

41

95014

Cupertino

Santa Clara County

CA

$2,070,000/$1,749,500

42

94087

Sunnyvale

Santa Clara County

CA

$2,050,000/$1,750,500

43

90742

Sunset Beach

Orange County

CA

$2,000,000/$1,712,500

44

94118

San Francisco

San Francisco County

CA

$1,975,000/$1,902,000

45

10069

New York

New York

NY

$1,947,500/$2,161,000

46

11932

Bridgehampton

Suffolk County

NY

$1,925,000/$2,525,000

47

94402

San Mateo

San Mateo County

CA

$1,900,000/$1,712,500

94070

San Carlos

San Mateo County

CA

$1,900,000/$1,625,000

48

90291

Venice

Los Angeles County

CA

$1,895,000/$1,732,500

1

1975

Wainscott

Suffolk County

NY

$1,895,000/$3,000,000

49

06878

Riverside

Fairfield County

CT

$1,855,000/$1,507,500

50

94041

Mountain View

Santa Clara County

CA

$1,850,000/$1,735,000

51

94040

Mountain View

Santa Clara County

CA

$1,840,500/$1,665,000

52

90212

Beverly Hills

Los Angeles County

CA

$1,835,000/$2,060,000

53

92660

Newport Beach

Orange County

CA

$1,825,000/$1,685,000

54

95129

San Jose

Santa Clara County

CA

$1,800,000/$1,475,000

94127

San Francisco

San Francisco County

CA

$1,800,000/$1,600,000

55

94528

Diablo

Contra Costa County

CA

$1,775,000/$2,618,750

56

92651

Laguna Beach

Orange County

CA

$1,772,500/$1.765,000

57

91011

La Canada Flintridge

Los Angeles County

CA

$1,770,000/$1,642,500

58

94002

Belmont

San Mateo County

CA

$1,751,750/$1,590,000

59

10580

Rye

Westchester County

NY

$1,750,000/$1,790,000

60

94114

San Francisco

San Francisco County

CA

$1,725,000/$1,652,000

61

95032

Los Gatos

Santa Clara County

CA

$1,700,750/$1,634,000

62

94939

Larkspur

Marin County

CA

$1,690,000/$1,775,000

63

90254

Hermosa Beach

Los Angeles County

CA

$1,687,000/$1,538,500

64

94904

Greenbrae

Marin County

CA

$1,683,500/$1,595,000

65

06870

Old Greenwich

Fairfield County

CT

$1,665,000/$2,085,000

66

94043

Mountain View

Santa Clara County

CA

$1,650,000/$1,375,000

90274

Palos Verdes Peninsula

Los Angeles County

CA

$1,650,000/$1,550,000

67

11568

Old Westbury

Nassau County

NY

$1,645,000/$1,465,000

68

21056

Gibson Island

Anne Arundel County

MD

$1,643,750/$1,450,000

69

92014

Del Mar

San Diego County

CA

$1,640,000/$1,425,000

70

90036

Los Angeles

Los Angeles County

CA

$1,638,250/$1,465,000

71

10014

New York

New York

NY

$1,635,000/$4,649,000

72

94030

Millbrae

San Mateo County

CA

$1,634,000/$1,605,000

73

94507

Alamo

Contra Costa County

CA

$1,621,000/$1,644,000

74

06830

Greenwich

Fairfield County

CT

$1,617,000/$1,752,000

75

94121

San Francisco

San Francisco County

CA

$1,610,000/$1,367,000

76

90048

Los Angeles

Los Angeles County

CA

$1,600,000/$1,455,000

95120

San Jose

Santa Clara County

CA

$1,600,000/$1,385,000

94131

San Francisco

San Francisco County

CA

$1,600,000/$1,540,000

90405

Santa Monica

Los Angeles County

CA

$1,600,000/$1,588,000

94117

San Francisco

San Francisco County

CA

$1,600,000/$1,395,000

11959

Quogue

Suffolk County

NY

$1,600,000/$1,416,963

77

92118

Coronado

San Diego County

CA

$1,595,750/$1,407,500

78

94061

Redwood City

San Mateo County

CA

$1,577,500/$1,449,500

7

9

93953

Pebble Beach

Monterey County

CA

$1,576,250/$1,639,080

80

90064

Los Angeles

Los Angeles County

CA

$1,575,000/$1,501,430

81

90027

Los Angeles

Los Angeles County

CA

$1,550,000/$1,446,514

82

92663

Newport Beach

Orange County

CA

$1,548,750/$1,533,416

94941

Mill Valley

Marin County

CA

$1,548,750/$1,413,000

83

94539

Fremont

Alameda County

CA

$1,520,000/$1,405,100

84

02493

Weston

Middlesex County

MA

$1,515,000/$1,451,000

94115

San Francisco

San Francisco County

CA

$1,515,000/$1,516,500

85

95130

San Jose

Santa Clara County

CA

$1,510,000/$1,445,280

86

91436

Encino

Los Angeles County

CA

$1,507,500/$1,406,250

87

94403

San Mateo

San Mateo County

CA

$1,500,000/$1,405,810

88

02468

Waban

Middlesex County

MA

$1,491,000/$1,471,866

89

02481

Wellesley Hills

Norfolk County

MA

$1,490,500/$1,420877

90

94086

Sunnyvale

Santa Clara County

CA

$1,482,250/$1,331,761

91

02554

Nantucket

Nantucket County

MA

$1,480,000/$1,338,156

92

10001

New York

New York

NY

$1,476,463/$1,506,176

93

93067

Summerland

Santa Barbara County

CA

$1,475,000/$1,249,000

11030

Manhasset

Nassau County

NY

$1,475,000/$1,600,000

94

94110

San Francisco

San Francisco County

CA

$1,470,000/$1,376,404

95

94563

Orinda

Contra Costa County

CA

$1,450,000/$1,430,000

94618

Oakland

Alameda County

CA

$1,450,000/$1,452,906

96

11024

Great Neck

Nassau County

NY

$1,442,900/$1,570,000

97

06807

Cos Cob

Fairfield County

CT

$1,442,500/$15,47,000

98

94705

Berkeley

Alameda County

CA

$1,440,000/$1,475,000

99

10024

New York

New York

NY

$1,430,000/$1,570,000

100

07078

Short Hills

Essex County

NJ

$1,426,250/$1,422,500