Check out "Today's Top Three Mansions" everyday at: todaysbestmansionsforsale.com
Which one is your favorite?
#1

6360 and 6342 North Bay Road, Miami Beach Florida 33141 with 12 bedrooms, 17 baths and 13,229 sq.ft.is listed for sale at $44,500,000
This Trophy Mega-Mansion in Miami Beach is a rare opportunity to purchase 2 prime adjacent properties on prestigious North Bay Road (6360 N Bay Rd and 6342 N Bay Rd). You will enjoy the most extravagant waterfront lifestyle from your brand estate that will be sitting on a combined lot of 52,015-SF with 212-FT of wide waterfrontage on Biscayne Bay. 6360 N Bay Rd is asking $32,000,000 and was built 2018. It includes 13,381-SF, 13 beds, 14 baths, 3 powder rooms, 3,000-sf roof decks, 2,700-sf covered terraces, 4 bedroom, 4 bath guesthouse, 3-car garage, 27,607-sf lot with 100-FT of waterfront. 6342 N Bay Rd is asking $12.500,000 includes a teardown home with a 24,407-sf lot and 100-FT of waterfront. This is the only brand-new mansion for sale in Miami Beach with this lot size and waterfrontage. These 2 properties can be bought separately or together.
#2
918 North Roxbury Drive, Beverly Hills, CA 90210 with 7 bedrooms, 14 baths and 12,217 sq.ft. is listed for sale at $36,000,000
Hidden behind exquisite iron gates this hilltop estate has both intrigued and fascinated the outside world since 1925. The landscape is surreal, beautiful beyond imagination. Jasmine scents the air while century old trees provide a sheltered haven for nearly two magical acres. Here one is transported into a romantic and secluded estate where nature completes the idyllic setting. A long private drive leads to one of three generous motor courts and the grand French Manor, designed and crafted in 1925 by Architect Sumner Hunt and restored by renowned designer Thomas Beeton, combining its authenticity with contemporary flair. Artistic glass and iron doors protect a large entry hall with imported limestone and marble floors, double crown moldings, coffered paneled ceiling and a unique powder room. Beyond is an elegant living room with floor-to-ceiling pane French doors, original herringbone floors and an elegant stone fireplace. A palatial dining room becomes the centerpiece for gatherings, with glass casement doors leading to both garden terraces and a breathtaking glass conservatory. A luxurious family room with a stone fireplace and beamed ceiling, private office and superb center island chefs kitchen complete the first floor amenities. A grand staircase leads to the second level with four en-suite bedrooms (three with fireplaces), a lavish master wing with separate sitting area and elegant double baths. Additionally, there is a secret third floor studio and attic that kids will treasure. Specimen cutting gardens, original chandeliered greenhouse, two guest cottages, two-story pool pavilion with fireplace, vaulted ceiling and wet bar, spectacular 60-foot lap pool. Garage parking for five cars, ancillary parking for 20, a separate personal training center and room for a tennis court. Here is an estate- the epitome of elegance, and sure to be irresistible.
.

.

.

.
.
.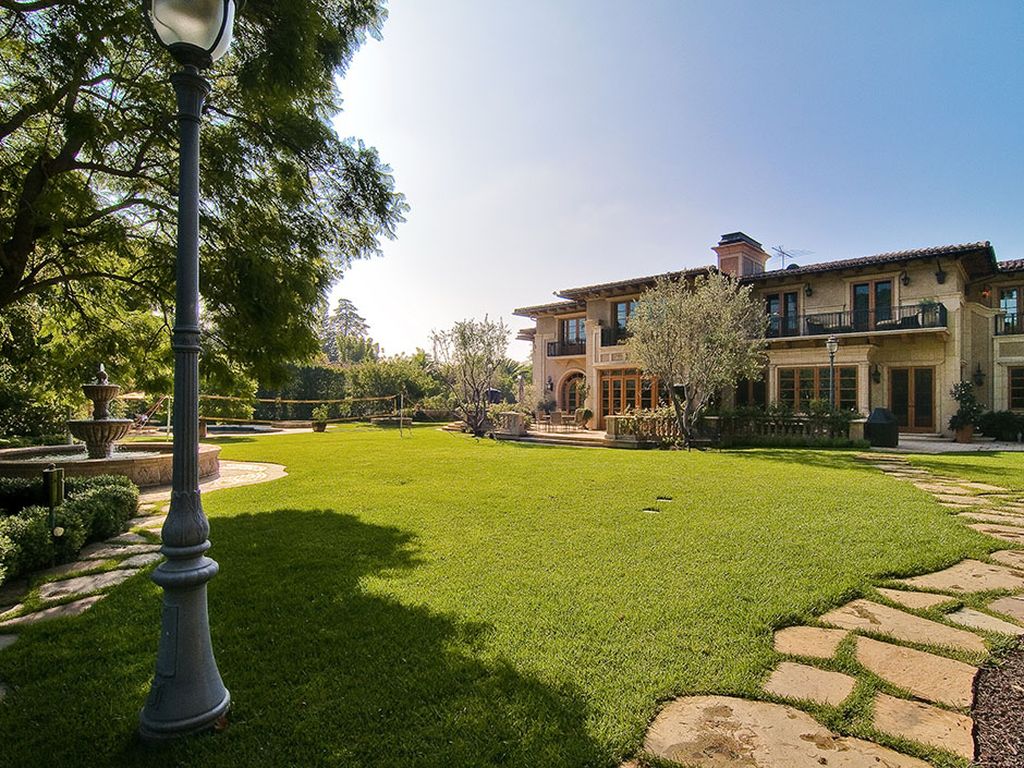 #3

19475 Black Rd, Los Gatos, CA 95033 with 9 bedrooms, 10 bathrooms and 9,906 sq.ft. is listed for sale at $15,000,000
Welcome to this secluded Tuscan estate, minutes to downtown Los Gatos. Live in casual elegance. Amenities include: Chef's kitchen - Wolf Gourmet range, 2 ovens, 2 sinks, 2 dishwashers, walk in pantry, SubZero refrigerator... Parking for 6+ cars in 2 garages for the auto enthusiast. The private master suite with spacious bath, closet room, sitting room with fireplace & 2 balconies. A separate caretaker's quarters with 2 bedrooms, full kitchen, high ceilings, fireplace, & private balcony. The formal gardens are designed for botanical beauty in the foreground with spectacular views beyond. The cascading terraces lead guests to the pool & gardens - perfect for entertaining inside & out. Professional scale office, game rooms, elevator, 5 fireplaces, 3 laundry areas, multiple living/entertainment rooms... Children do not have to cross a street to go to the neighboring top-rated elementary school. The possibilities are endless!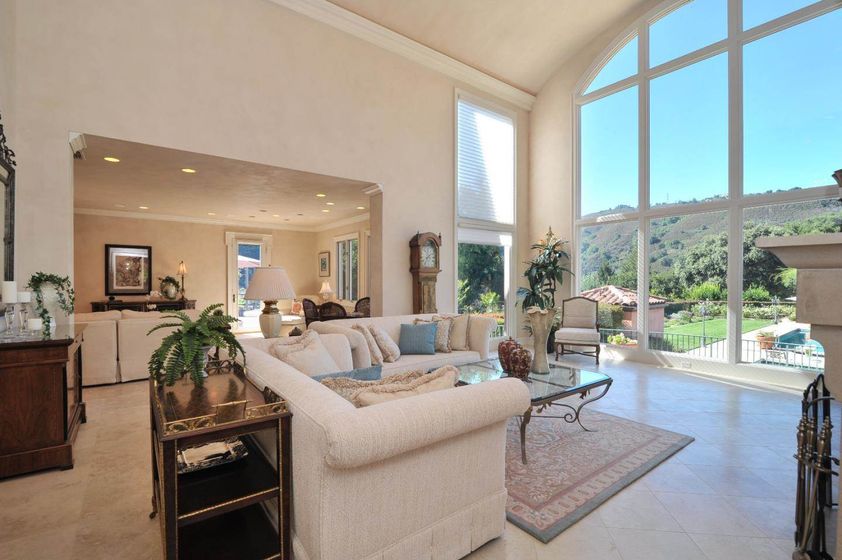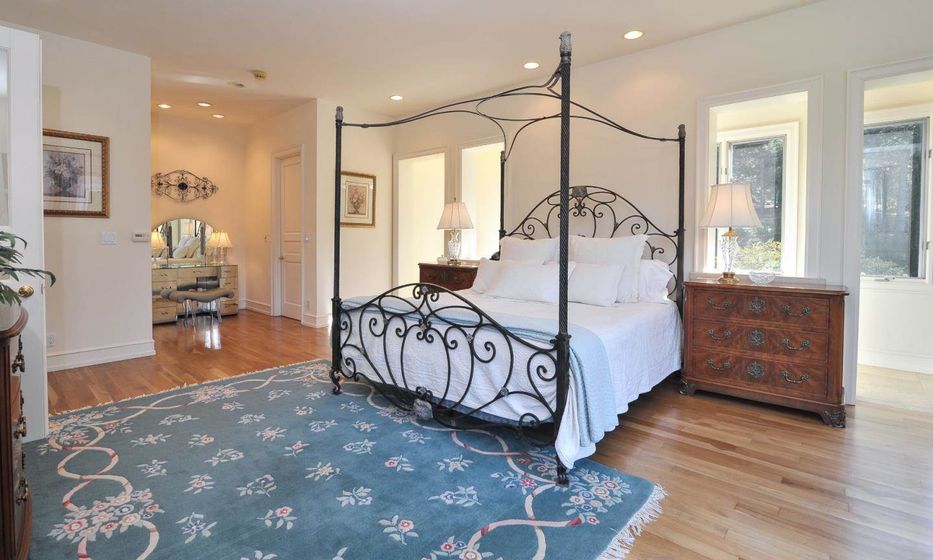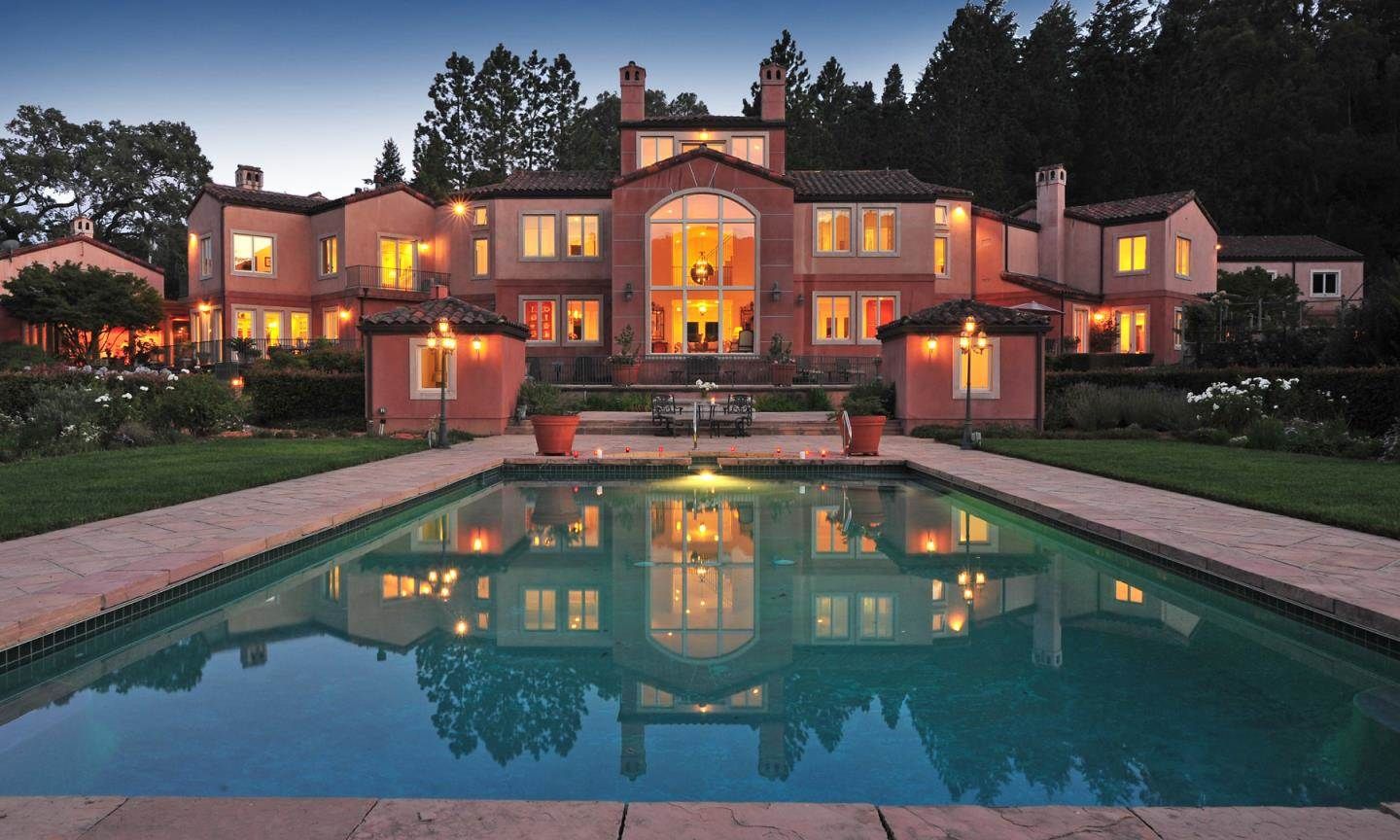 Mortgage News Daily: Today's Mortgage Rates
Mortgage Rates Nominally Higher Despite Bond Market Warning
Mortgage rates rose gently Friday. Most mortgage borrowers (and many mortgage professionals, for that matter) wouldn't be aware of slightly more alarming risks lurking underneath the surface. Those risks involve the broader bond market from which mortgage-related bonds take their directional cues.
More simply put, if US Treasuries are improving, mortgage-backed bonds tend to improve as well. The level of correlation varies though. For nearly all of 2018, mortgages weren't improving as quickly as the most widely-used rate benchmark: 10yr Treasury yields. That began to change recently--especially when 10yr yields began moving higher 3 weeks ago. During that time, we've seen moderate moves higher in 10yr yields met with modest moves higher in mortgage rates. Today was another one of those days.
The underlying risk is that the moderate moves in Treasuries are adding up and potentially crossing dangerous lines. Mortgage rates aren't any worse than they were at last week's highs, but Treasuries are as high as they've been in more than 3 weeks. If they go much higher, they'll be breaking some important ceilings that investors might treat as harbingers of additional momentum. The net effect would be additional increases in mortgage rates. Even if those wouldn't be keeping pace with the weakness in Treasuries, they still wouldn't be pleasant.



52 Week

Product

Today

Yesterday

Change

Low

High

30 Yr FRM

4.60%

4.59%

+0.01

4.22%

5.05%

15 Yr FRM

4.16%

4.15%

+0.01

3.58%

4.53%

FHA 30 Year Fixed

4.18%

4.18%

--

4.00%

4.62%

Jumbo 30 Year Fixed

4.38%

4.37%

+0.01

4.29%

4.81%

5/1 Yr ARM

4.40%

4.40%

--

3.29%

4.75%
100 Top Real Estate Markets Medium Values 12 months 2018 Compared

to 2017

.
Newly Update 12 Month results for 2018
Zip code

Location

County

State

Median sale price
2018/2017

1

94027

Atherton

San Mateo County

CA

$6,700,000/$4,950,000

2

11962

Sagaponack

Suffolk County

NY

$5,500,000/$2,819,000

3

02199

Boston

Suffolk County

MA

$4,772,500/$2,800,000

4

10013

New York

New York

NY

$3,810,000/$4,100,000

5

90402

Santa Monica

Los Angeles County

CA

$3,762,000/$3,512,000

6

94301

Palo Alto

Santa Clara County

CA

$3,755,000/$3,300,000

7

94022

Los Altos

Santa Clara County

CA

$3,500,000/$3,200,000

8

94028

Portola Valley

San Mateo County

CA

$3,300,000/$2.895,000

9

94024

Los Altos

Santa Clara County

CA

$3,254,500/$2,875,000

10

33109

Miami Beach

Miami-Dade County

FL

$3,250,000/$4,052,000

11

90210

Beverly Hills

Los Angeles County

CA

$3,212,500/$4,052,000

12

92661

Newport Beach

Orange County

CA

$3,150,000/$2,819,000

13

10007

New York

New York

NY

$3,075,000/$3,988,883

14

92662

Newport Beach

Orange County

CA

$3,057,500/$2,575,000

15

98039

Medina

King County

WA

$3,050,000/$2,590.000

16

90272

Pacific Palisades

Los Angeles County

CA

$2,900,000/$2,730,000

17

11976

Water Mill

Suffolk County

NY

$2,862,500/$3,162,000

18

94010

Burlingame

San Mateo County

CA

$2,800,000/$2,400,000

19

10282

New York

New York

NY

$2,792,500/$2,775,000

20

94306

Palo Alto

Santa Clara County

CA

$2,700,000/$2,445,000

21

95070

Saratoga

Santa Clara County

CA

$2,690,000/$2,320,000

22

95030

Los Gatos

Santa Clara County

CA

$2,580,000/$2,211,000

23

92657

Newport Coast

Orange County

CA

$2,550,000/$2,950,000

94957

Ross

Marin County

CA

$2,550,000/$2,987,000

24

92625

Corona Del Mar

Orange County

CA

$2,500,000/$2,100,000

25

94920

Belvedere Tiburon

Marin County

CA

$2,400,000/$2,550,000

26

10012

New York

New York

NY

$2,377,500/$1,807,000

27

90266

Manhattan Beach

Los Angeles County

CA

$2,369,000/$2,250,000

28

94025

Menlo Park

San Mateo County

CA

$2,363,500/$2,062,500

29

92067

Rancho Santa Fe

San Diego County

CA

$2,275,000/$2,062,500

30

90049

Los Angeles

Los Angeles County

CA

$2,250,000/$2,210,000

31

93921

Carmel By The Sea

Monterey County

CA

$2,245,000/$1,600,000

32

93108

Santa Barbara

Santa Barbara County

CA

$2,225,000/$2,757,500

33

07620

Alpine

Bergen County

NJ

$2,200,000/

$4,763,577

34

90077

Los Angeles

Los Angeles County

CA

$2,175,000/$2,068,437

35

94062

Redwood City

San Mateo County

CA

$2,150,000/$1,699,000

11930

Amagansett

Suffolk County

NY

$2,150,000/$1,781,000

36

91108

San Marino

Los Angeles County

CA

$2,109,000/$2,150,000

37

89413

Glenbrook

Douglas County

NV

$2,107,500/$1,967,000

38

02543

Woods Hole

Barnstable County

MA

$2,105,000/

$2,519,636

39

10018

New York

New York

NY

$2,100,000/$1,146,000

94970

Stinson Beach

Marin County

CA

$2,100,000/$1,650,000

90265

Malibu

Los Angeles County

CA

$2,100,000/$2,252,500

40

94123

San Francisco

San Francisco County

CA

$2,075,000/$1,800,000

41

95014

Cupertino

Santa Clara County

CA

$2,070,000/$1,749,500

42

94087

Sunnyvale

Santa Clara County

CA

$2,050,000/$1,750,500

43

90742

Sunset Beach

Orange County

CA

$2,000,000/$1,712,500

44

94118

San Francisco

San Francisco County

CA

$1,975,000/$1,902,000

45

10069

New York

New York

NY

$1,947,500/$2,161,000

46

11932

Bridgehampton

Suffolk County

NY

$1,925,000/$2,525,000

47

94402

San Mateo

San Mateo County

CA

$1,900,000/$1,712,500

94070

San Carlos

San Mateo County

CA

$1,900,000/$1,625,000

48

90291

Venice

Los Angeles County

CA

$1,895,000/$1,732,500

1

1975

Wainscott

Suffolk County

NY

$1,895,000/$3,000,000

49

06878

Riverside

Fairfield County

CT

$1,855,000/$1,507,500

50

94041

Mountain View

Santa Clara County

CA

$1,850,000/$1,735,000

51

94040

Mountain View

Santa Clara County

CA

$1,840,500/$1,665,000

52

90212

Beverly Hills

Los Angeles County

CA

$1,835,000/$2,060,000

53

92660

Newport Beach

Orange County

CA

$1,825,000/$1,685,000

54

95129

San Jose

Santa Clara County

CA

$1,800,000/$1,475,000

94127

San Francisco

San Francisco County

CA

$1,800,000/$1,600,000

55

94528

Diablo

Contra Costa County

CA

$1,775,000/$2,618,750

56

92651

Laguna Beach

Orange County

CA

$1,772,500/$1.765,000

57

91011

La Canada Flintridge

Los Angeles County

CA

$1,770,000/$1,642,500

58

94002

Belmont

San Mateo County

CA

$1,751,750/$1,590,000

59

10580

Rye

Westchester County

NY

$1,750,000/$1,790,000

60

94114

San Francisco

San Francisco County

CA

$1,725,000/$1,652,000

61

95032

Los Gatos

Santa Clara County

CA

$1,700,750/$1,634,000

62

94939

Larkspur

Marin County

CA

$1,690,000/$1,775,000

63

90254

Hermosa Beach

Los Angeles County

CA

$1,687,000/$1,538,500

64

94904

Greenbrae

Marin County

CA

$1,683,500/$1,595,000

65

06870

Old Greenwich

Fairfield County

CT

$1,665,000/$2,085,000

66

94043

Mountain View

Santa Clara County

CA

$1,650,000/$1,375,000

90274

Palos Verdes Peninsula

Los Angeles County

CA

$1,650,000/$1,550,000

67

11568

Old Westbury

Nassau County

NY

$1,645,000/$1,465,000

68

21056

Gibson Island

Anne Arundel County

MD

$1,643,750/$1,450,000

69

92014

Del Mar

San Diego County

CA

$1,640,000/$1,425,000

70

90036

Los Angeles

Los Angeles County

CA

$1,638,250/$1,465,000

71

10014

New York

New York

NY

$1,635,000/$4,649,000

72

94030

Millbrae

San Mateo County

CA

$1,634,000/$1,605,000

73

94507

Alamo

Contra Costa County

CA

$1,621,000/$1,644,000

74

06830

Greenwich

Fairfield County

CT

$1,617,000/$1,752,000

75

94121

San Francisco

San Francisco County

CA

$1,610,000/$1,367,000

76

90048

Los Angeles

Los Angeles County

CA

$1,600,000/$1,455,000

95120

San Jose

Santa Clara County

CA

$1,600,000/$1,385,000

94131

San Francisco

San Francisco County

CA

$1,600,000/$1,540,000

90405

Santa Monica

Los Angeles County

CA

$1,600,000/$1,588,000

94117

San Francisco

San Francisco County

CA

$1,600,000/$1,395,000

11959

Quogue

Suffolk County

NY514

$1,600,000/$1,416,963

77

92118

Coronado

San Diego County

CA

$1,595,750/$1,407,500

78

94061

Redwood City

San Mateo County

CA

$1,577,500/$1,449,500

7

9

93953

Pebble Beach

Monterey County

CA

$1,576,250/$1,639,080

80

90064

Los Angeles

Los Angeles County

CA

$1,575,000/$1,501,430

81

90027

Los Angeles

Los Angeles County

CA

$1,550,000/$1,446,514

82

92663

Newport Beach

Orange County

CA

$1,548,750/$1,533,416

94941

Mill Valley

Marin County

CA

$1,548,750/$1,413,000

83

94539

Fremont

Alameda County

CA

$1,520,000/$1,405,100

84

02493

Weston

Middlesex County

MA

$1,515,000/$1,451,000

94115

San Francisco

San Francisco County

CA

$1,515,000/$1,516,500

85

95130

San Jose

Santa Clara County

CA

$1,510,000/$1,445,280

86

91436

Encino

Los Angeles County

CA

$1,507,500/$1,406,250

87

94403

San Mateo

San Mateo County

CA

$1,500,000/$1,405,810

88

02468

Waban

Middlesex County

MA

$1,491,000/$1,471,866

89

02481

Wellesley Hills

Norfolk County

MA

$1,490,500/$1,420877

90

94086

Sunnyvale

Santa Clara County

CA

$1,482,250/$1,331,761

91

02554

Nantucket

Nantucket County

MA

$1,480,000/$1,338,156

92

10001

New York

New York

NY

$1,476,463/$1,506,176

93

93067

Summerland

Santa Barbara County

CA

$1,475,000/$1,249,000

11030

Manhasset

Nassau County

NY

$1,475,000/$1,600,000

94

94110

San Francisco

San Francisco County

CA

$1,470,000/$1,376,404

95

94563

Orinda

Contra Costa County

CA

$1,450,000/$1,430,000

94618

Oakland

Alameda County

CA

$1,450,000/$1,452,906

96

11024

Great Neck

Nassau County

NY

$1,442,900/$1,570,000

97

06807

Cos Cob

Fairfield County

CT

$1,442,500/$15,47,000

98

94705

Berkeley

Alameda County

CA

$1,440,000/$1,475,000

99

10024

New York

New York

NY

$1,430,000/$1,570,000

100

07078

Short Hills

Essex County

NJ

$1,426,250/$1,422,500