Check out "Today's Top Three Mansions" everyday at: todaysbestmansionsforsale.com
Which one is your favorite?
#1

1

51 East 58th Street,

Ph 5152W, New York, NY 10022 with 5 bedrooms, 11 baths and 9,000 sq.ft. is listed for sale at $45,000,000.
.
..
From the moment you walk into this spectacular duplex, Charles Gwathmey's vision is evident. No other apartment in NYC can compare in terms of layout and detail. The level of custom finishes are unmatched. Your first view of the stunning apartment is the double height living room soaring 24' and two walls of North and West glass. White Venetian plaster walls, maple floors, Anigre Wood and stainless steel are used throughout. The state of the art chef's kitchen with counters of honed black absolute granite welcome any chef. Adjacent to the kitchen is the media and entertaining room. A powder room, reception room, home office, pantry, and two staff rooms with full bathrooms complete the first level. Up the glass and steel staircase are the master suite and additional bedrooms. The master suite comprises an office, sitting room, and two full bathrooms outfitted with white statuary marble walls and sinks, and black granite floors. Two dressing rooms with built-in custom cabinetry of Anigre Wood complete this space. Three additional bedrooms with en-suite baths, a den and a laundry room complete the floor. The home is equipped with Crestron System and touch pads in every room which control lighting, temperature, electronic window shades and more. There is also a home security system and backup generator for computers.
One Beacon Court is one of Manhattan's most luxurious condominium residences. Built in 2005 and located on 58th Street between Lexington Avenue and Third Avenue, the building is part of the Bloomberg Tower complex. . Designed by the acclaimed Pelli Clarke Pelli Architects, One Beacon Court is a beautiful addition to the Manhattan skyline. Additionally, the renowned interior designer Jacques Grange is responsible for the warm, contemporary look of the building lobby and hallway spaces.
#2
9

255 Doheny Road, Penthouse, West Hollywood, CA 90069 with 6 bedrooms, 7 baths and 7,000 sq.ft. is listed for sale at $39,000,000
Encompassing the entire top floor of the world-renowned Sierra Towers, this unprecedented 7,000-square-foot double penthouse is a rare and coveted blank canvas awaiting a discerning buyer's unbridled vision. The sprawling, raw space showcases soaring 15-foot ceilings and floor-to-ceiling walls of glass that capture jaw-dropping, 360-degree jetliner views that stretch across the Hollywood Hills, Los Angeles and Downtown L.A. to the ocean. Approximately 4,000 square feet of sweeping terraces encircle the residence, flowing seamlessly off sliding walls of glass to offer an incredible indoor-outdoor living experience totaling 11,000 square feet in an extraordinary sky-high setting. Complete with separate service quarters, high-end security and world-class amenities, this is a once-in-a-lifetime opportunity to bring the most ambitious of dreams to life in one of the city's most iconic celebrity residences, just moments from Sunset Boulevard, Rodeo Drive and the heart of Hollywood.
#3

1658 Crespi Lane, Pebble Beach, CA 93953 with 6 bedrooms, 8 baths and 10,104 sq.ft. is listed for sale at $16,500,000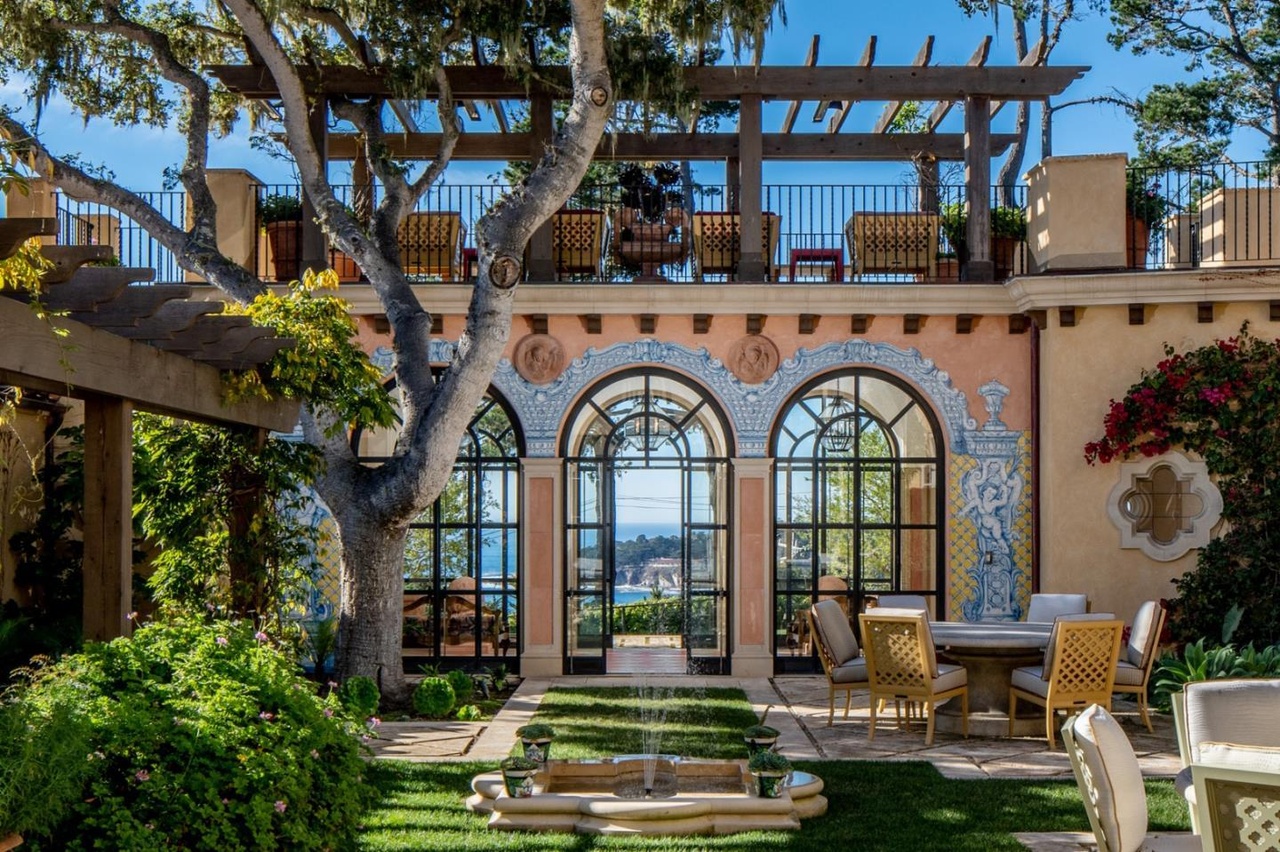 Steeped in lore, this legendary ocean view estate is located in the heart of Pebble Beach, minutes to The Lodge and Carmel-by-the-Sea. Sited on over 3 acres of magnificent grounds, Casa Ladera offers a classic motor court sense of entry, expansive gardens with meandering pathways, beautifully framed ocean views overlooking Carmel Beach and Stillwater Cove. Exquisitely renovated and featured in Architectural Digest, the masterpiece continues inside the home, elevating the art of entertaining with a spacious grand salon looking back at Fish Ranch, an ocean view library and office, a dining room to behold, a grand main level master suite, 4 guest suites, and an ocean view guest house. History awaits the next fortunate owner of this treasured iconic Pebble Beach landmark.
Mortgage News Daily: Today's Mortgage Rates
Mortgage Rates Lower, But Higher Than Last Week
Mortgage rates improved today, breaking a 3-day streak with effectively no change. This gets us part of the way back down to the long-term lows achieved at the end of last week. At that time, the average lender was quoting conventional 30yr fixed rates that were roughly 5/8ths of a percentage point (0.625%) lower than the long-term highs seen at the beginning of November. Rates then lurched higher by Tuesday of this week, eroding as much as a quarter of a point from some scenarios. Today's gains restored about half of that weakness for a net improvement of 0.5% from November's highs.

At any time before last week, today's rates would be the lowest since April 2018. The swiftness with which those lows were achieved led some investors to worry about a swift bounce back. But it seems that as long as the stock market isn't bouncing back too swiftly that rates are content to fly more of a holding pattern. For the record, rates and stocks don't always follow each other in lock step, but they've been more correlated than normal since stock market volatility picked up in Q4-2018.




| | | | | | |
| --- | --- | --- | --- | --- | --- |
| Product | Today | Yesterday | Change | 52 Week Low/High | |
| 30 Yr FRM | 4.57% | 4.59% | -0.02 | 4.14% | 5.05% |
| 15 Yr FRM | 4.14% | 4.15% | -0.01 | 3.46% | 4.53% |
| FHA 30 Year Fixed | 4.17% | 4.18% | -0.01 | 3.75% | 4.62% |
| Jumbo 30 Year Fixed | 4.34% | 4.36% | -0.02 | 4.29% | 4.81% |
| 5/1 Yr ARM | 4.42% | 4.43% | -0.01 | 3.21% | 4.75% |
100 Top Real Estate Markets Medium Values 12 months 2018/2017
NEWLY UPDATED 2018 YTD RESULTS
Zip code

Location

County

State

Median sale price
2018/2017

1

94027

Atherton

San Mateo County

CA

$6,700,000/$4,950,000

2

11962

Sagaponack

Suffolk County

NY

$5,500,000/$2,819,000

3

02199

Boston

Suffolk County

MA

$4,772,500/$2,800,000

4

10013

New York

New York

NY

$3,810,000/$4,100,000

5

90402

Santa Monica

Los Angeles County

CA

$3,762,000/$3,512,000

6

94301

Palo Alto

Santa Clara County

CA

$3,755,000/$3,300,000

7

94022

Los Altos

Santa Clara County

CA

$3,500,000/$3,200,000

8

94028

Portola Valley

San Mateo County

CA

$3,300,000/$2.895,000

9

94024

Los Altos

Santa Clara County

CA

$3,254,500/$2,875,000

10

33109

Miami Beach

Miami-Dade County

FL

$3,250,000/$4,052,000

11

90210

Beverly Hills

Los Angeles County

CA

$3,212,500/$4,052,000

12

92661

Newport Beach

Orange County

CA

$3,150,000/$2,819,000

13

10007

New York

New York

NY

$3,075,000/$3,988,883

14

92662

Newport Beach

Orange County

CA

$3,057,500/$2,575,000

15

98039

Medina

King County

WA

$3,050,000/$2,590.000

16

90272

Pacific Palisades

Los Angeles County

CA

$2,900,000/$2,730,000

17

11976

Water Mill

Suffolk County

NY

$2,862,500/$3,162,000

18

94010

Burlingame

San Mateo County

CA

$2,800,000/$2,400,000

19

10282

New York

New York

NY

$2,792,500/$2,775,000

20

94306

Palo Alto

Santa Clara County

CA

$2,700,000/$2,445,000

21

95070

Saratoga

Santa Clara County

CA

$2,690,000/$2,320,000

22

95030

Los Gatos

Santa Clara County

CA

$2,580,000/$2,211,000

23

92657

Newport Coast

Orange County

CA

$2,550,000/$2,950,000

94957

Ross

Marin County

CA

$2,550,000/$2,987,000

24

92625

Corona Del Mar

Orange County

CA

$2,500,000/$2,100,000

25

94920

Belvedere Tiburon

Marin County

CA

$2,400,000/$2,550,000

26

10012

New York

New York

NY

$2,377,500/$1,807,000

27

90266

Manhattan Beach

Los Angeles County

CA

$2,369,000/$2,250,000

28

94025

Menlo Park

San Mateo County

CA

$2,363,500/$2,062,500

29

92067

Rancho Santa Fe

San Diego County

CA

$2,275,000/$2,062,500

30

90049

Los Angeles

Los Angeles County

CA

$2,250,000/$2,210,000

31

93921

Carmel By The Sea

Monterey County

CA

$2,245,000/$1,600,000

32

93108

Santa Barbara

Santa Barbara County

CA

$2,225,000/$2,757,500

33

07620

Alpine

Bergen County

NJ

$2,200,000/

$4,763,577

34

90077

Los Angeles

Los Angeles County

CA

$2,175,000/$2,068,437

35

94062

Redwood City

San Mateo County

CA

$2,150,000/$1,699,000

11930

Amagansett

Suffolk County

NY

$2,150,000/$1,781,000

36

91108

San Marino

Los Angeles County

CA

$2,109,000/$2,150,000

37

89413

Glenbrook

Douglas County

NV

$2,107,500/$1,967,000

38

02543

Woods Hole

Barnstable County

MA

$2,105,000/

$2,519,636

39

10018

New York

New York

NY

$2,100,000/$1,146,000

94970

Stinson Beach

Marin County

CA

$2,100,000/$1,650,000

90265

Malibu

Los Angeles County

CA

$2,100,000/$2,252,500

40

94123

San Francisco

San Francisco County

CA

$2,075,000/$1,800,000

41

95014

Cupertino

Santa Clara County

CA

$2,070,000/$1,749,500

42

94087

Sunnyvale

Santa Clara County

CA

$2,050,000/$1,750,500

43

90742

Sunset Beach

Orange County

CA

$2,000,000/$1,712,500

44

94118

San Francisco

San Francisco County

CA

$1,975,000/$1,902,000

45

10069

New York

New York

NY

$1,947,500/$2,161,000

46

11932

Bridgehampton

Suffolk County

NY

$1,925,000/$2,525,000

47

94402

San Mateo

San Mateo County

CA

$1,900,000/$1,712,500

94070

San Carlos

San Mateo County

CA

$1,900,000/$1,625,000

48

90291

Venice

Los Angeles County

CA

$1,895,000/$1,732,500

1

1975

Wainscott

Suffolk County

NY

$1,895,000/$3,000,000

49

06878

Riverside

Fairfield County

CT

$1,855,000/$1,507,500

50

94041

Mountain View

Santa Clara County

CA

$1,850,000/$1,735,000

51

94040

Mountain View

Santa Clara County

CA

$1,840,500/$1,665,000

52

90212

Beverly Hills

Los Angeles County

CA

$1,835,000/$2,060,000

53

92660

Newport Beach

Orange County

CA

$1,825,000/$1,685,000

54

95129

San Jose

Santa Clara County

CA

$1,800,000/$1,475,000

94127

San Francisco

San Francisco County

CA

$1,800,000/$1,600,000

55

94528

Diablo

Contra Costa County

CA

$1,775,000/$2,618,750

56

92651

Laguna Beach

Orange County

CA

$1,772,500/$1.765,000

57

91011

La Canada Flintridge

Los Angeles County

CA

$1,770,000/$1,642,500

58

94002

Belmont

San Mateo County

CA

$1,751,750/$1,590,000

59

10580

Rye

Westchester County

NY

$1,750,000/$1,790,000

60

94114

San Francisco

San Francisco County

CA

$1,725,000/$1,652,000

61

95032

Los Gatos

Santa Clara County

CA

$1,700,750/$1,634,000

62

94939

Larkspur

Marin County

CA

$1,690,000/$1,775,000

63

90254

Hermosa Beach

Los Angeles County

CA

$1,687,000/$1,538,500

64

94904

Greenbrae

Marin County

CA

$1,683,500/$1,595,000

65

06870

Old Greenwich

Fairfield County

CT

$1,665,000/$2,085,000

66

94043

Mountain View

Santa Clara County

CA

$1,650,000/$1,375,000

90274

Palos Verdes Peninsula

Los Angeles County

CA

$1,650,000/$1,550,000

67

11568

Old Westbury

Nassau County

NY

$1,645,000/$1,465,000

68

21056

Gibson Island

Anne Arundel County

MD

$1,643,750/$1,450,000

69

92014

Del Mar

San Diego County

CA

$1,640,000/$1,425,000

70

90036

Los Angeles

Los Angeles County

CA

$1,638,250/$1,465,000

71

10014

New York

New York

NY

$1,635,000/$4,649,000

72

94030

Millbrae

San Mateo County

CA

$1,634,000/$1,605,000

73

94507

Alamo

Contra Costa County

CA

$1,621,000/$1,644,000

74

06830

Greenwich

Fairfield County

CT

$1,617,000/$1,752,000

75

94121

San Francisco

San Francisco County

CA

$1,610,000/$1,367,000

76

90048

Los Angeles

Los Angeles County

CA

$1,600,000/$1,455,000

95120

San Jose

Santa Clara County

CA

$1,600,000/$1,385,000

94131

San Francisco

San Francisco County

CA

$1,600,000/$1,540,000

90405

Santa Monica

Los Angeles County

CA

$1,600,000/$1,588,000

94117

San Francisco

San Francisco County

CA

$1,600,000/$1,395,000

11959

Quogue

Suffolk County

NY514

$1,600,000/$1,416,963

77

92118

Coronado

San Diego County

CA

$1,595,750/$1,407,500

78

94061

Redwood City

San Mateo County

CA

$1,577,500/$1,449,500

7

9

93953

Pebble Beach

Monterey County

CA

$1,576,250/$1,639,080

80

90064

Los Angeles

Los Angeles County

CA

$1,575,000/$1,501,430

81

90027

Los Angeles

Los Angeles County

CA

$1,550,000/$1,446,514

82

92663

Newport Beach

Orange County

CA

$1,548,750/$1,533,416

94941

Mill Valley

Marin County

CA

$1,548,750/$1,413,000

83

94539

Fremont

Alameda County

CA

$1,520,000/$1,405,100

84

02493

Weston

Middlesex County

MA

$1,515,000/$1,451,000

94115

San Francisco

San Francisco County

CA

$1,515,000/$1,516,500

85

95130

San Jose

Santa Clara County

CA

$1,510,000/$1,445,280

86

91436

Encino

Los Angeles County

CA

$1,507,500/$1,406,250

87

94403

San Mateo

San Mateo County

CA

$1,500,000/$1,405,810

88

02468

Waban

Middlesex County

MA

$1,491,000/$1,471,866

89

02481

Wellesley Hills

Norfolk County

MA

$1,490,500/$1,420877

90

94086

Sunnyvale

Santa Clara County

CA

$1,482,250/$1,331,761

91

02554

Nantucket

Nantucket County

MA

$1,480,000/$1,338,156

92

10001

New York

New York

NY

$1,476,463/$1,506,176

93

93067

Summerland

Santa Barbara County

CA

$1,475,000/$1,249,000

11030

Manhasset

Nassau County

NY

$1,475,000/$1,600,000

94

94110

San Francisco

San Francisco County

CA

$1,470,000/$1,376,404

95

94563

Orinda

Contra Costa County

CA

$1,450,000/$1,430,000

94618

Oakland

Alameda County

CA

$1,450,000/$1,452,906

96

11024

Great Neck

Nassau County

NY

$1,442,900/$1,570,000

97

06807

Cos Cob

Fairfield County

CT

$1,442,500/$15,47,000

98

94705

Berkeley

Alameda County

CA

$1,440,000/$1,475,000

99

10024

New York

New York

NY

$1,430,000/$1,570,000

100

07078

Short Hills

Essex County

NJ

$1,426,250/$1,422,500