Check out "Today's Top Three Mansions" everyday at: todaysbestmansionsforsale.com
Which on is your favorite?
#1

61 Sunnyside Way, Aspen, Colorado 81611 with 8 bedrooms #3 181 Fremony, San Francisco 94105 is listed for sale at $14,000,000.
Located in Aspen's most sought after setting and location off Sunnyside Lane, Richard Wax & Associates presents the ultimate property on this quaint and quiet street that displays stunning unimpeded panoramic views of the Elk Mountain Range, Aspen Highlands, Snowmass Ski Area, Capital Peak and Mount Daly! Situated on 3.1 acres with a private gated entrance, there is a 10,830 square foot main house, 1000 square foot guest house with two bedrooms and one bath, and a separate 500 square foot office with a fireplace, bar and bathroom. Combined with only a short drive to downtown Aspen on McLain Flats Road which bypasses all of the traffic, this spectacular este is the finest new offering in Aspen























#2 7046 North 95th Place, Paradise Valley, Arizonab 86253 with 5 bedrooms, 8 baths and 20,000 sq.ft. is listed for sale at $22,888,000.
Bella Paradiso is Paradise Valley's most sought after estate. Located on the south side of Mummy Mountain, this 20,000 square foot residence features 6 bedrooms, 12.5 bathrooms and the ability to garage up to 20 vehicles. The most breathtaking attribute, however, is the view! Showcasing Arizona's most exquisite landscape, the home captures 180 degree views of Camelback Mountain, Downtown Phoenix and the East Valley.This spectacular estate embodies a resort style environment, as well as a magnificent home. Bella Paradiso has the unique ability to function as a intimate home for a family, and simultaneously, entertain up to 200 guests in a stunning ballroom, which can be accessed through its own dedicated entrance. Tasked with designing all interior architecture and finish specifications, luxury residential interior designer, Jamie Herzlinger, developed a stunning retreat with classic Golden Era style incorporated by utilizing transitional elements. Bella Paradiso features luxurious guest accommodations and exceptional outdoor living spaces. This exemplary estate offers an unparalleled expression of what defines resort style living.






.






.








.


















#3 81 Fremont #69B, San Francisco, CA 94105 with 2 bedrooms, 3 baths, and 3,199 sq.ft. id listed for sale at $14,000,000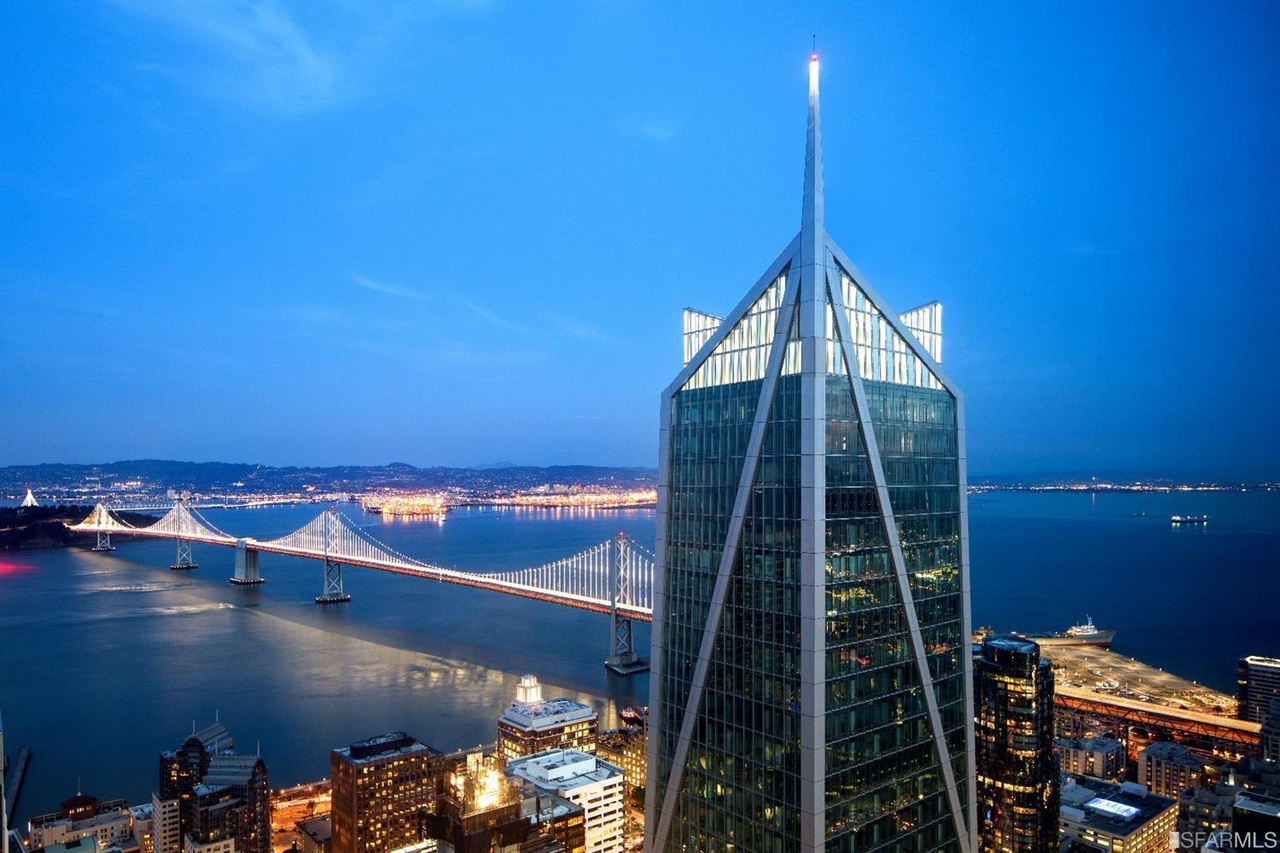 ..
Gracious entry foyer. Sweeping northeast, southeast, and southwest floor-to-ceiling views,
10' ceilings in living room and bedrooms. Living room with corner entertainment cabinet. Hideaway kitchen with sliding panels, double oven, refrigerator and freezer, dual dishwashers, dual wine storage, breakfast nook, bar with seating, and service pantry. Master bedroom with southeast and southwest views and walk-in closet. Master bathroom with freestanding soaking tub, separate shower, dual water closets, and dual vanities. Second bedroom with en-suite bathroom and walk-in closet. Large den with sliding door.Powder room.
Mortgage Rates Modestly Higher Despite Stronger Bond Market
Mortgage rates were steady to slightly higher yet again today. This reinforces our sense from yesterday that rates may have already found their post-Fed floor. The thing that makes today's modest weakness somewhat surprising is the fact that underlying bond markets actually suggested rates could improve.
Actually, it would be more surprising to see this during a more normal time of year for the mortgage market. On the days leading up to the Christmas holiday, it's not uncommon to see lenders being a bit more conservative with mortgage rate offerings.
In the bigger picture, rates are still very close to their lowest levels in months. In fact, with the exception of the past 2 days, today's rates are easily the lowest since the beginning of September. In general, if the broader economy (and the stock market) continues to signal a shift toward slower growth, rates won't necessarily be forced back toward previous highs.
Stocks don't always inform interest rate momentum, but if they manage to bounce back in a meaningful way, it would likely coincide with upward pressure on rates. Beyond that, the next big push of momentum might not come until the end of the first week in January when the big jobs report is released. The Fed is watching that data closely for any sign that they'll need to adjust their policy path.


Mortgage News Daily: Today's Mortgage Rates
| | | | | | |
| --- | --- | --- | --- | --- | --- |
| Product | Today | Yesterday | Change | 52 Week Low | High |
| 30 Yr FRM | 4.65% | 4.64% | +0.01 | 4.04% | 5.05% |
| 15 Yr FRM | 4.21% | 4.20% | +0.01 | 3.37% | 4.53% |
| FHA 30 Year Fixed | 4.24% | 4.23% | +0.01 | 3.75% | 4.62% |
| Jumbo 30 Year Fixed | 4.41% | 4.40% | +0.01 | 4.19% | 4.81% |
| 5/1 Yr ARM | 4.61% | 4.60% | +0.01 | 3.20% | 4.75% |
100 Top Real Estate Markets Medium Values 12 months 2018/2017
NEWLY UPDATED 2018 YTD RESULTS
Zip code

Location

County

State

Median sale price
2018/2017

1

94027

Atherton

San Mateo County

CA

$6,700,000/$4,950,000

2

11962

Sagaponack

Suffolk County

NY

$5,500,000/$2,819,000

3

02199

Boston

Suffolk County

MA

$4,772,500/$2,800,000

4

10013

New York

New York

NY

$3,810,000/$4,100,000

5

90402

Santa Monica

Los Angeles County

CA

$3,762,000/$3,512,000

6

94301

Palo Alto

Santa Clara County

CA

$3,755,000/$3,300,000

7

94022

Los Altos

Santa Clara County

CA

$3,500,000/$3,200,000

8

94028

Portola Valley

San Mateo County

CA

$3,300,000/$2.895,000

9

94024

Los Altos

Santa Clara County

CA

$3,254,500/$2,875,000

10

33109

Miami Beach

Miami-Dade County

FL

$3,250,000/$4,052,000

11

90210

Beverly Hills

Los Angeles County

CA

$3,212,500/$4,052,000

12

92661

Newport Beach

Orange County

CA

$3,150,000/$2,819,000

13

10007

New York

New York

NY

$3,075,000/$3,988,883

14

92662

Newport Beach

Orange County

CA

$3,057,500/$2,575,000

15

98039

Medina

King County

WA

$3,050,000/$2,590.000

16

90272

Pacific Palisades

Los Angeles County

CA

$2,900,000/$2,730,000

17

11976

Water Mill

Suffolk County

NY

$2,862,500/$3,162,000

18

94010

Burlingame

San Mateo County

CA

$2,800,000/$2,400,000

19

10282

New York

New York

NY

$2,792,500/$2,775,000

20

94306

Palo Alto

Santa Clara County

CA

$2,700,000/$2,445,000

21

95070

Saratoga

Santa Clara County

CA

$2,690,000/$2,320,000

22

95030

Los Gatos

Santa Clara County

CA

$2,580,000/$2,211,000

23

92657

Newport Coast

Orange County

CA

$2,550,000/$2,950,000

94957

Ross

Marin County

CA

$2,550,000/$2,987,000

24

92625

Corona Del Mar

Orange County

CA

$2,500,000/$2,100,000

25

94920

Belvedere Tiburon

Marin County

CA

$2,400,000/$2,550,000

26

10012

New York

New York

NY

$2,377,500/$1,807,000

27

90266

Manhattan Beach

Los Angeles County

CA

$2,369,000/$2,250,000

28

94025

Menlo Park

San Mateo County

CA

$2,363,500/$2,062,500

29

92067

Rancho Santa Fe

San Diego County

CA

$2,275,000/$2,062,500

30

90049

Los Angeles

Los Angeles County

CA

$2,250,000/$2,210,000

31

93921

Carmel By The Sea

Monterey County

CA

$2,245,000/$1,600,000

32

93108

Santa Barbara

Santa Barbara County

CA

$2,225,000/$2,757,500

33

07620

Alpine

Bergen County

NJ

$2,200,000/

$4,763,577

34

90077

Los Angeles

Los Angeles County

CA

$2,175,000/$2,068,437

35

94062

Redwood City

San Mateo County

CA

$2,150,000/$1,699,000

11930

Amagansett

Suffolk County

NY

$2,150,000/$1,781,000

36

91108

San Marino

Los Angeles County

CA

$2,109,000/$2,150,000

37

89413

Glenbrook

Douglas County

NV

$2,107,500/$1,967,000

38

02543

Woods Hole

Barnstable County

MA

$2,105,000/

$2,519,636

39

10018

New York

New York

NY

$2,100,000/$1,146,000

94970

Stinson Beach

Marin County

CA

$2,100,000/$1,650,000

90265

Malibu

Los Angeles County

CA

$2,100,000/$2,252,500

40

94123

San Francisco

San Francisco County

CA

$2,075,000/$1,800,000

41

95014

Cupertino

Santa Clara County

CA

$2,070,000/$1,749,500

42

94087

Sunnyvale

Santa Clara County

CA

$2,050,000/$1,750,500

43

90742

Sunset Beach

Orange County

CA

$2,000,000/$1,712,500

44

94118

San Francisco

San Francisco County

CA

$1,975,000/$1,902,000

45

10069

New York

New York

NY

$1,947,500/$2,161,000

46

11932

Bridgehampton

Suffolk County

NY

$1,925,000/$2,525,000

47

94402

San Mateo

San Mateo County

CA

$1,900,000/$1,712,500

94070

San Carlos

San Mateo County

CA

$1,900,000/$1,625,000

48

90291

Venice

Los Angeles County

CA

$1,895,000/$1,732,500

1

1975

Wainscott

Suffolk County

NY

$1,895,000/$3,000,000

49

06878

Riverside

Fairfield County

CT

$1,855,000/$1,507,500

50

94041

Mountain View

Santa Clara County

CA

$1,850,000/$1,735,000

51

94040

Mountain View

Santa Clara County

CA

$1,840,500/$1,665,000

52

90212

Beverly Hills

Los Angeles County

CA

$1,835,000/$2,060,000

53

92660

Newport Beach

Orange County

CA

$1,825,000/$1,685,000

54

95129

San Jose

Santa Clara County

CA

$1,800,000/$1,475,000

94127

San Francisco

San Francisco County

CA

$1,800,000/$1,600,000

55

94528

Diablo

Contra Costa County

CA

$1,775,000/$2,618,750

56

92651

Laguna Beach

Orange County

CA

$1,772,500/$1.765,000

57

91011

La Canada Flintridge

Los Angeles County

CA

$1,770,000/$1,642,500

58

94002

Belmont

San Mateo County

CA

$1,751,750/$1,590,000

59

10580

Rye

Westchester County

NY

$1,750,000/$1,790,000

60

94114

San Francisco

San Francisco County

CA

$1,725,000/$1,652,000

61

95032

Los Gatos

Santa Clara County

CA

$1,700,750/$1,634,000

62

94939

Larkspur

Marin County

CA

$1,690,000/$1,775,000

63

90254

Hermosa Beach

Los Angeles County

CA

$1,687,000/$1,538,500

64

94904

Greenbrae

Marin County

CA

$1,683,500/$1,595,000

65

06870

Old Greenwich

Fairfield County

CT

$1,665,000/$2,085,000

66

94043

Mountain View

Santa Clara County

CA

$1,650,000/$1,375,000

90274

Palos Verdes Peninsula

Los Angeles County

CA

$1,650,000/$1,550,000

67

11568

Old Westbury

Nassau County

NY

$1,645,000/$1,465,000

68

21056

Gibson Island

Anne Arundel County

MD

$1,643,750/$1,450,000

69

92014

Del Mar

San Diego County

CA

$1,640,000/$1,425,000

70

90036

Los Angeles

Los Angeles County

CA

$1,638,250/$1,465,000

71

10014

New York

New York

NY

$1,635,000/$4,649,000

72

94030

Millbrae

San Mateo County

CA

$1,634,000/$1,605,000

73

94507

Alamo

Contra Costa County

CA

$1,621,000/$1,644,000

74

06830

Greenwich

Fairfield County

CT

$1,617,000/$1,752,000

75

94121

San Francisco

San Francisco County

CA

$1,610,000/$1,367,000

76

90048

Los Angeles

Los Angeles County

CA

$1,600,000/$1,455,000

95120

San Jose

Santa Clara County

CA

$1,600,000/$1,385,000

94131

San Francisco

San Francisco County

CA

$1,600,000/$1,540,000

90405

Santa Monica

Los Angeles County

CA

$1,600,000/$1,588,000

94117

San Francisco

San Francisco County

CA

$1,600,000/$1,395,000

11959

Quogue

Suffolk County

NY514

$1,600,000/$1,416,963

77

92118

Coronado

San Diego County

CA

$1,595,750/$1,407,500

78

94061

Redwood City

San Mateo County

CA

$1,577,500/$1,449,500

7

9

93953

Pebble Beach

Monterey County

CA

$1,576,250/$1,639,080

80

90064

Los Angeles

Los Angeles County

CA

$1,575,000/$1,501,430

81

90027

Los Angeles

Los Angeles County

CA

$1,550,000/$1,446,514

82

92663

Newport Beach

Orange County

CA

$1,548,750/$1,533,416

94941

Mill Valley

Marin County

CA

$1,548,750/$1,413,000

83

94539

Fremont

Alameda County

CA

$1,520,000/$1,405,100

84

02493

Weston

Middlesex County

MA

$1,515,000/$1,451,000

94115

San Francisco

San Francisco County

CA

$1,515,000/$1,516,500

85

95130

San Jose

Santa Clara County

CA

$1,510,000/$1,445,280

86

91436

Encino

Los Angeles County

CA

$1,507,500/$1,406,250

87

94403

San Mateo

San Mateo County

CA

$1,500,000/$1,405,810

88

02468

Waban

Middlesex County

MA

$1,491,000/$1,471,866

89

02481

Wellesley Hills

Norfolk County

MA

$1,490,500/$1,420877

90

94086

Sunnyvale

Santa Clara County

CA

$1,482,250/$1,331,761

91

02554

Nantucket

Nantucket County

MA

$1,480,000/$1,338,156

92

10001

New York

New York

NY

$1,476,463/$1,506,176

93

93067

Summerland

Santa Barbara County

CA

$1,475,000/$1,249,000

11030

Manhasset

Nassau County

NY

$1,475,000/$1,600,000

94

94110

San Francisco

San Francisco County

CA

$1,470,000/$1,376,404

95

94563

Orinda

Contra Costa County

CA

$1,450,000/$1,430,000

94618

Oakland

Alameda County

CA

$1,450,000/$1,452,906

96

11024

Great Neck

Nassau County

NY

$1,442,900/$1,570,000

97

06807

Cos Cob

Fairfield County

CT

$1,442,500/$15,47,000

98

94705

Berkeley

Alameda County

CA

$1,440,000/$1,475,000

99

10024

New York

New York

NY

$1,430,000/$1,570,000

100

07078

Short Hills

Essex County

NJ

$1,426,250/$1,422,500